The Fort Myers Beach Public Library is an independent district governed by a seven member Board of Directors, each of whom is elected to serve a four-year term. Directors are eligible to serve consecutive terms. Further information about Library Board elections can be found here.
Meetings
The latest Board agenda can be viewed here.

The regular meetings of the Fort Myers Beach Library District Board for FY2020-2021 will be held at the Fort Myers Beach Public Library, 2755 Estero Blvd., Fort Myers Beach at 6:00 P.M. on the fourth Tuesday of the month with the exception of November when the Board meets the third Tuesday of the month. The Board does not meet in April, August, or December.

· October 27, 2020
· November 17, 2020
· January 26, 2021
· February 23, 2021
· March 23, 2021
· May 25, 2021
· June 22, 2021
· July 27, 2021
· September 28, 2021

Other meetings and hearings may be scheduled as needed. Notice of meetings appears in the legal ads section of the News Press, is posted at the library, and is announced on the home page of this web site.

Meetings are held in accordance with Florida "Sunshine" Law. Anyone interested is encouraged to attend and is welcome to speak during Public Comment.

Anyone wanting to appeal an official decision made on any subject at one of these meetings must have a verbatim record of the meeting and their appeal must include the testimony and evidence on which the appeal is based.
Library District Boundaries
The Library District comprises all of Estero Island, all of San Carlos Island and community developments on the mainland up to Pine Ridge Road.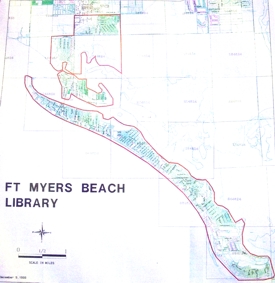 Charter info may be accessed here.