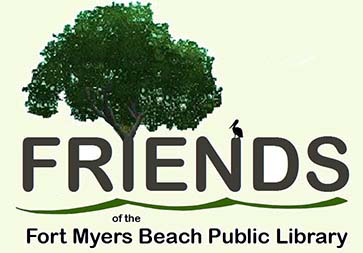 The purpose of the Friends of the Fort Myers Beach Library (a 501(c) 3 organization) is to enhance and expand the library's services through volunteerism and financial support.

Members receive the quarterly Friends Newsletter, Among Friends, by mail.

The Board of Directors meets each quarter and an annual membership meeting is held each January. To see the minutes of the last Annual Meeting, click here. To see the latest financial statement, click here.

Annual membership dues are:

$15 per person
$25 for a family/dual membership
$40 for a business/organization
$75 for an individual desiring Sponsor status
$125 for an individual desiring Patron status
$250 for an individual Lifetime membership.

Membership makes a great gift. Please ask at the staff workstation for a membership application or get application here.
Friends Board of Directors
President, Betty Simpson
Vice President, Cherie Smith
Secretary, Suzy Katt
Treasurer, Pat Smith
Director, Judy FitzSimons
Director, Johanne Campbell
Bookstore Manager, Jan Fleming
Membership Chair, Warren Richardson

Contact the Friends here.
Friends-Sponsored Books for Sale
Coconuts & Coquinas: Island life on Fort Myers Beach, 1920-1970, by Dr. Jean S. Gottlieb

Hardcover, $14.00

The Friends Cookbook, a collection of favorites from beach residents and local eateries. $15.00